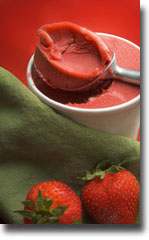 The first garden strawberry was grown in Brittany, France during the late 18th century. Prior to this, wild strawberries and cultivated selections from wild strawberry species were the common source of the fruit. The strawberry fruit was mentioned in ancient Roman literature in reference to its medicinal use.
Serves 4, 300 calories per serving.
Ingredients:
4 cups frozen strawberries
1/4 cup lime juice
1/3 teas Stevia
Directions:
Slightly thaw the strawberries so that it easily blends.
Add all ingredients to a high speed/high quality blender like a Vitamix.
Blend until smooth but do not overblend. Keep mixture as thick and frosty as possible.
Pour into a chilled metal container.
Chill until firm, then serve.