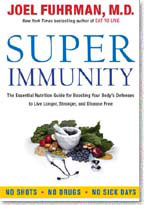 Joel Furhman has done it again, writing another groundbreaking book on diet and nutrition. In Super Immunity, leading expert in disease prevention and reversal Dr. Joel Fuhrman offers a program proven to help you boost immunity and stay healthy throughout the year. Fuhrman even tackles the difficult questions, such as should I get a  flu shot or not?
This book is backed by plenty of the latest research showing the value of vital foods such as greens, beans, berries, onions, mushrooms, nuts and seeds. This is information that everyone needs to know and will help you to understand which foods are the most nutrient dense and why.
Furhman  supports his claims with a strong scientific background and solid research. Most importantly, he finds practical applications for our daily lives. He makes it very clear that most families have gotten away from cooking healthy meals with fresh vegetables and fruits that are very high with the beneficial nutrients (and low in calories) needed to support their immune system. In addition, they have gotten away from doing sufficient exercise.
This is a very great book to have in your library. It's informative and clearly understandable. This book doesn't give you new info in the sense that you know vegetables are important to eat. However, the way foods breakdown and the nutrients within each type of food was really interesting and makes eating greens even more important.
Author: Joel Fuhrman
Year of Release: 2011