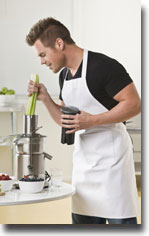 Beets are also an excellent source of folate and a very good source of manganese, potassium, and copper. They are also a good source of dietary fiber, magnesium, phosphorus, vitamin C, iron, and vitamin B6. Plus they also make a great tasting drink!

Number of servings: 1, 200 calories per serving.
Ingredients:
2 large beets chopped
1 cup apple
1 cut carrot
1 stalk celery chopped
1 cup water
Instructions:
Combine everything into your blender and blend (depending on your blender, celery made need to go through a juicer first).
Add more water if needed to get things moving around in the blender.