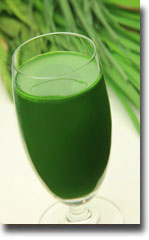 It's hard to ignore the wealth of advertising messages touting the importance of going green. Businesses have embraced this marketing strategy to convince you, the consumer, that they care about the environment. However, it is now just about good business sense. There are several benefits to going green that extend beyond a marketing strategy.
Number of servings: 1, 110 calories per serving.
Ingredients:
Large handful of Kale
10 Green grapes
2 Cucumber
1 Granny Smith apple
Directions:
Place all ingredients in blender and add a small amount of water.
Blend until creamy.
Add water in small amounts until desired consistency is reached.
Great for the days following a water fast.
For juice fasting, eliminate the green grapes.