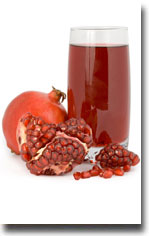 The pomegranate is native from Iran to the Himalayas in northern India and was cultivated and naturalized over the whole Mediterranean region. This nutrient dense, antioxidant rich fruit has been revered as a symbol of health, fertility and eternal life. Pomegranates contain high levels of flavonoids and polyphenols, potent antioxidants.
Number of servings: 1, 230 calories per serving.
Ingredients:
3 pomegranates
red grapes as needed for desired sweetness
water if needed
Instructions:
Cutting and De-Seeding the Pomegranate
Pomegranate juice stains. So before you begin to cut into one, make sure you are wearing an apron and using a suitable cutting board,
With a chef's knife, slice the pomegranate in half cutting through the crown.
Cut each half in half again cutting through the crown.
Working over a bowl, use your fingers to pry away the seeds from the peel and membranes. You can fill the bowl part way with water. The seeds will sink to the bottom of the water while pieces of membrane will float to the top, making it easier to separate the membranes from the seeds.
Juice from the seeds by pulsing a cup at a time in a blender, just enough to break the seeds, and then use a rubber spatula to push the juice through a fine sieve.  2 large pomegranates will generally yield 1 cup of juice.
Making the Juice
Combine pomegranate juice and grapes in your blender and blend to desired consistency.
Add red grapes as needed for sweetness.