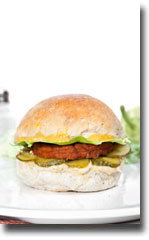 The vitamin- and nutrient-packed sweet potato or kumara is a dicotyledonous plant that belongs to the family Convolvulaceae. Its large, starchy, sweet-tasting, tuberous roots are a root vegetable. The young leaves and shoots are sometimes eaten as greens. Sweet potatoes can be used to make fries, soups, quesadillas, and even smoothies.
Number of servings: 2, 320 calories per serving.
Ingredients:
One sweet potato
1/2 can white beans (you can cook your own, but make sure they are very soft)
1 green onion, finely diced (chives will work, too)
Safflower oil for frying
Directions:
Mash all ingredients together in a medium bowl.
Make 2 patties.
Saute the patties in safflower oil until goldren brown. Flip and cook other side. (Abouts 15 minutes total).
Serve on bun with vegan mayonaise, pickles, onions, and or avocado.