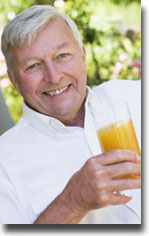 Easy to peel and packed with nutrients, tangerines make a great on-the-go snack. They're delicious too, a juicy blend of tart and sweet flavors. Tangerines are low in calories and fat but provide vitamins, minerals and fiber. Tangerines are an excellent choice for those watching their weight and monitoring their fat intake. One medium-size tangerine weighing 109 g has only 50 calories, no fat and no cholesterol.
Number of servings: 1, 180 calories per serving.
Ingredients:
2 cups tangerine sections
green grapes to taste for sweetness
save segment of tangerine for garnish
water if needed
Instructions:
Combine everything into your blender and blend.
Add more water if needed to get things moving around in the blender.
Garnish with segment of tangerine.