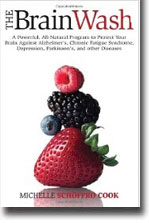 Scientists predict that within fifteen years brain disease will kill or disable more North Americans than cancer and heart disease combined.The Brain Wash: A Powerful, All-Natural Program to Protect Your Brain Against Alzheimer's, Chronic Fatigue Syndrome is a powerful, holistic health plan based on the most cutting-edge brain, nutrition, and healing research. Combining thousands of scientific studies from around the globe, The Brain Wash offers a comprehensive, easy-to-follow approach proven to help protect your brain from damage.
The Ultimate Brain Health Plan covers:
Get individualized, proven prevention and treatment plans for Alzheimer's, depression, ALS (Lou Gehrig's Disease), Chronic Fatigue Syndrome, Attention Deficit Disorder, Multiple Chemical Sensitivities, Parkinson's, Multiple Sclerosis, and more.
Learn how everyday drugs, environmental pollutants, heavy metals, and pathogens cross the blood-brain barrier to wreak havoc on your brain.
Discover that your nutrition and lifestyle choices have been proven to be the key determinants in your brain's health–and what to do about it.
Using brilliantly colored foods and the most powerful natural medicines on earth, this book will show you how to strengthen your brain, prevent and treat disease, and enjoy your long life to its fullest.
Author: Michelle Schoffro Cook
Year of Release: 2007