Authors: Jack Bishop
Year of Release: 1997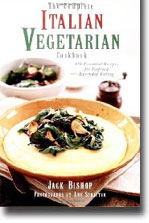 The Complete Italian Vegetarian Cookbook: 350 Essential Recipes for Inspired Everyday Eating is a uhis uniquely accessible collection that draws together the best vegetarian recipes of Italy-350 in all. 'Pasta and pizza may be Italy's most eye-catching exports, but it is the country's varied and sensible use of vegetables that provides the best inspiration for American cooks.
Asparagus spears coated with a little olive oil and roasted to intensify their flavor; thick slices of country bread grilled over an open fire and topped with diced tomatoes and shredded basil from the garden; or a fragrant stew with fennel and peas-Italians enjoy these dishes because of what they do contain, not what they don't.
Many of the recipes were gathered by Bishop during extensive travels throughout Italy. Some are family favorites, adapted from those of his Italian grandmother. All deliver perfect results with a minimum of effort. Serving suggestions for each recipe make planning vegetarian meals easy.
This is one of those cookbooks that doesn't just give you recipes but gives you ideas. Bishop also simplifies some recipes that have been intimidating. All the recipes in this book can be made without fuss and turn out impressively. This is a cookbook for real people, who don't have time to cook all day, and normal kitchens.