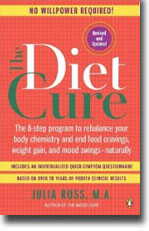 For most health books, the word cure in the title is a definite sign to steer clear. The Diet Cure: The 8-Step Program to Rebalance Your Body Chemistry and End Food Cravings, Weight Problems, and Mood-Swings–Now is a refreshing exception. Author Julia Ross has the unusual job description of "nutritional psychologist," which means that she works with people to eradicate food cravings, addictions, and eating disorders (including overeating).
The gist of The Diet Cure plan is that food allergies, hormonal irregularities, blood sugar swings, and thyroid dysfunction, among other factors, cause biochemical imbalances that lead to food addiction and weight gain, and that these problems can usually be lessened or eradicated with the proper diet and supplements.
For the more than 160 million overweight Americans, dieting is a failure. Based on more than twenty years of proven clinical results, The Diet Cure's revolutionary approach curbs food cravings and restores the brain's mood and appetite chemistry in twenty-four hours.
Beginning with her 8-Step Quick Symptom Questionnaire, celebrated nutritional psychotherapist Julia Ross helps readers identify their unique underlying biochemical imbalances and provides targeted strategies to correct those imbalances using nutritional supplements to jump-start the dietary overhaul. Readers then create their own safe, easy-to-follow plan to end low-calorie dieting and food obsessions for good.
Author: Julia Ross
Year of Release: 2000