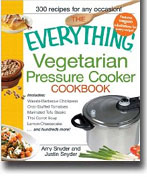 With one in four people describing themselves as "vegetarian-inclined" and pressure cookers experiencing a comeback, the need is greater than ever for this cookbook! These amazing appliances can cut cooking time by as much as half! Here, popular food bloggers and chef team Amy and Jeff Snyder help readers create such memorable dishes as:
Thai Carrot Soup
Mashed Eggplant and Tomato Salad
Creole Jambalaya
Whole-Wheat Fettuccine with Mushroom Cream Sauce
Moroccan-Spiced Red Lentils
Port-Poached Figs
Packed with 300 recipes and a full work-up of nutritional information, health-conscious foodies–vegetarians and non-vegetarians alike–will be whipping up mouthwatering meals for friends and family every night of the week.
This cookbook is a good companion to the pressure cooker cookbook. What keeps this cookbook from a better pressure cooker cookbook is the fact that small steps have been omitted from some of the recipes, such as draining and reserving the cooking liquid when cooking beans for refried beans–before mashing the beans. Also, some recipes only require one ingredient to be cooked in the pressure cooker, and then then rest of the ingredients are cooked in a separate pan or mixed together and cooked in the oven. That said, it is great that the authors give options for making each recipe vegan.
Author: Amy Snyder
Year of Release: 2010