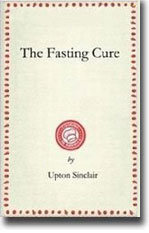 Journalist Upton Sinclair wrote on article on fasting for Cosmopolitan in 1910 and discussed his experiences with fasting, including his three fasts that totaled thirty days (Sinclair, 1911). In 1911, Sinclair published The Fasting Cure in which he recommended nothing stronger than light reading during a fast.
This is book that contains several articles about fasting by Upton Sinclair, and selected reader responses along with letters asking for Sinclair's help re. fasting, by readers. Also included is a poignant letter (a short slice of life story in itself) and answers to a kind of survey Sinclair sent to some of the folks he helped.
Sinclair was both very deeply interested in fasting due to his own issues and later because he realized how important it could be to the ill. He read, corresponded with the few doctors who utilized fasting as part of their practices and acquired information where ever possible and disseminated it through his 2 articles and to the many people who daily asked him for help via the mail because of them. (I think he said he got anywhere from one letter to a dozen per day for years).
Sinclair's opinions and thoughts at the time of the compilation are interspersed throughout the material. If you are interested in the topic of fasting, you may find this book interesting for historical reasons.
Author: Upton Sinclair
Year of Release: 1911