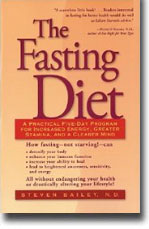 This is an interesting guide to juice fasting. Bailey discusses fasting throughout history, some basic digestive system anatomy, several case studies, nutrition and a very step-by-step description of his 5-day juice fast.
Bailey discusses tings like how it pays to wind down your intake of heavy carbohydrate foods, meat and coffee a short period before you start. Shrinking the stomach and slowing down the digestive process for 2-3 weeks will make the cleanse go easier.
According to Bailey, the whole point is to rid your body of all the built up toxins. This is what brings the body into balance. Bailey He also points out that he prepared for his extended water fast experience by using the juice fast.
Other salient points include:
Water fasting must be medically supervised very closely; juice fasting is much less risky in terms of preventing potentially fatal electrolyte imbalance.
Bailey's experience himself, alone. Bailey has supervised thousands of fasters and has reversed many conditions believed to be incurable.
Fasting is not a good way to lose weight; you can lose weight, but it's not a substitute for rational lifestyle changes.
Juice fasting is much better tolerated by the average person because they don't have the discipline for water fasting.
Additionally, Bailey covers all aspects of fasting including physical, emotional, mental and spiritual.
Author: Steven Bailey
Year of Release: 2001