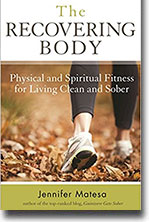 Just as recovery requires daily practice, so does physical fitness and a healthy lifestyle. In The Recovering Body, seasoned health writer, Jennifer Matesa ignites the recovery community with the first-ever guide to achieving physical recovery as part of your path to lifelong sobriety.
In our former lives as practicing alcoholics and addicts, we likely punished our bodies as much as our minds. And yet, recovery programs often neglect the physical, focusing primarily on the mental, emotional, and spiritual dimensions of staying sober.
In The Recovering Body, popular health writer and Guinevere Gets Sober blogger Matesa provides simple, effective ways for addicts to heal the damage caused by substance abuse, whatever our age, lifestyle, or temperament. Combining solid science and practical guidance, along with her own experience and that of other addicts, Matesa offers a roadmap to creating our own unique approach to physical recovery.
Each chapter provides key summaries and helpful checklists, focused on: exercise and activity, sleep and rest, nutrition and fuel sexuality and pleasure meditation and awareness. Matesa's holistic approach frames physical fitness as a living amends to self–a transformative gift analogous to the "spiritual fitness" practices worked on in recovery.
With warmth and intelligence, Matesa suggests that healing the body from physical addiction is not separate from spiritual healing. Through fascinating stories from the field and using her experience as an educator and journalist who overcame her own addiction, she explains how movement, nourishment, sleep, pleasure, and mindfulness pave the road home to yourself. A blueprint for healing, body and soul.
The Recovering Body is an engaging commentary on the importance of exercise and meditation for people in recovery—but it is so much more than simply a self-help book. Personal, luminous in its depth of understanding of the human condition, this is a book that would benefit anyone who struggles with self-image. This is a book for all persons who choose light above darkness.
Author: Jennifer Matesa
Year of Release: 2014