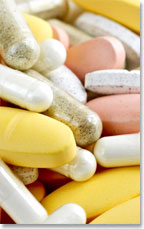 According to a report of the American Association of Poison Control Centers Toxic Exposure Surveillance System, no one is known to have died from taking vitamins.
Nutritional supplements are relatively safe provided they are taken in appropriate dosages. However, just because a supplement is "natural" doesn't mean it is safe or without any harmful effects.
Nutritional supplements have a profound impact on the body and can cause medical problems if not used correctly or if taken in large amounts. For example, large dosages of some vitamins can cause organ damage. In some cases, people have experienced negative effects even though they followed the instructions on the label. Women who are pregnant or nursing need to be especially cautious about using any type of supplements. This caution also applies to children.
It is always wise to consult with a health care provider prior to taking any supplement, especially if you are taking any medications, whether prescription or over-the-counter. Some nutritional supplements can interact with medications in ways that cause health problems. Even if your health care provider does not know about a particular supplement, he or she can access the latest medical guidance on its uses, risks, and interactions.
When using nutritional supplements, it's best to do so under the guidance of a professional properly trained in nutrition. This is especially important when treating psychological problems. In such cases, a mental health professional, such as a psychotherapist, should be an ongoing part of a treatment plan that involves continually assessing progress.
In the United States, dietary supplements are regulated by the Food and Drug Administration (FDA) under the category of food. This means that they do not have to meet the same standards as drugs and over-the-counter medications for proof of safety, effectiveness, and what the FDA calls "good manufacturing practices."