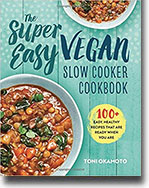 When it comes to ease and convenience in the kitchen, the slow cooker is a must-have appliance. Now the slow cooker is becoming synonymous with healthy eating as well, offering benefits that increase nutrition while also decreasing cook time and stress.
By using a slow cooker for both full meals and basic staples, cooking instructor and founder of the popular food blog, Plant Based on a Budget, Toni Okamoto creates simple, healthy meals that are packed full of flavor and nutrients. In The Super Easy Vegan Slow Cooker CookbookToni shows you how to get your money's worth when making vegan meals at home. The easy-to-follow recipes in The Super Easy Vegan Slow Cooker Cookbook make it simple to enjoy healthy vegan meals that you'll love to eat―without the fuss of using multiple pots and pans.
With The Super Easy Vegan Slow Cooker Cookbook you will:
Stock up on vegan slow cooking staples like beans and lentils
Enjoy more than 100 healthy, flavorful plant-based meals
Create complete meals with just 15 minutes of active prep time
Choose from a range of variations on classic vegan dishes―as well as recommendations for super-simple salads to be served alongside
Find out how The Super Easy Vegan Slow Cooker Cookbook will save you time and money while serving up wholesome, tantalizing dishes such as: Spicy Ethiopian Lentil Stew, Corn Salad with Creamy Avocado Lime Dressing, Curried Ginger Butternut Squash Soup, Grilled Romaine Hearts with Miso Dressing, and much more.
A fan of Toni's blog, I was excited when I heard the topic of her cookbook. And just as I'd hoped and expected, it's a straightforward presentation of practical but appetizing recipes. I've only had a chance to try two so far, but both came together quickly and did not disappoint. Even my kids were impressed, which was my goal. So, with a bunch of recipes dog-eared and ready to try, I know I'll be cooking my way through this book over and over, thankful for its getting us back on course.
Author: Toni Okamoto
Year of Release: 2017