Author: Nava Atlas
Year of Release: 2001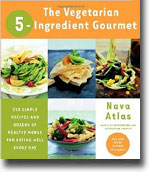 Nava Atlas has solutions for maintaining sophisticated flavors in the dishes she creates and still manages to keep the ingredients healthy. Every recipe includes a nutritional breakdown including calories, fat, protein, carbohydrates, cholesterol, and sodium. Nearly every recipe has suggestions for what to pair the dish with and on what page to find it. This is an especially handy cookbook for time-crunched families. The food is easy, quick, healthy, and doesn't require great concentration to prepare.
Eating healthfully is a challenge for those with fast-paced lives. In The Vegetarian 5-Ingredient Gourmet: 250 Simple Recipes and Dozens of Healthy Menus for Eating Well Every Day, Nava Atlas pares meal preparation down to the essentials, using just a few high-quality ingredients in each delicious dish. Focusing on whole foods and fresh produce (with a little help from convenient natural sauces and condiments) she serves up a varied range of choices for everyday fare.
More than 250 recipes include soups, salads, and pastas; grain, bean, and soy entrees; wraps and sandwich fillings; simple side dishes; fruit-filled finales; and more. The full-flavored fare made from five ingredients or less includes Curried Red Lentil and Spinach Soup; Greek-Flavored Potato Salad; Black Bean Nachos Grandes; Baked Barbecue Tofu and Peppers; and Miniature Fresh Fruit Tarts.
Filled with ingenious shortcuts and sprinkled with kitchen wisdom and tips throughout, The Vegetarian 5-Ingredient Gourmet also offers the reader dozens of menu suggestions to help make meal planning effortless.
From sophisticated (Mixed Greens with Pears, Cranberries, and Goat Cheese) to kid-friendly, (Peanut Butter Noodles), here are recipes to suit every taste. Nava Atlas makes it simple for busy families or active singles to eat the kind of high-nutrient foods everyone needs and to enjoy the robust flavors everyone craves.

Click here to order this book at Amazon.