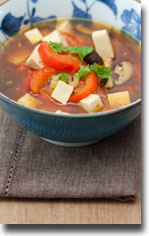 Tofu originated in ancient China, the theory being that tofu was invented by Lord Liu An of Huainan in about 164 BC (early Han dynasty). In modern China, tofu is traditionally used as a food offering when visiting the graves of deceased relatives. It is claimed that the spirits (or ghosts) have long lost their chins and jaws, and that only tofu is soft enough for them to eat.
Makes 4 servings, 260 calories each.
Ingredients:
3 tbsp Braggs Aminos
1 clove minced garlic
1 block tofu, diced
1 yellow onion, diced
2 carrots, chopped
1 zucchini, chopped
5 tomatoes, sliced
1/2 pound fresh mushrooms, sliced
4 cups water or vegetable broth
2 cups tomato juice
2 tsp basil
1 tsp oregano
1/4 tsp pepper
Directions:
Press the tofu well, then freeze until solid. Thaw and press again, then chop into 1 inch cubes.
Heat oven to 375 degrees.
In a small bowl, combine Braggs sauce and garlic.
Arrange tofu on a baking pan, and cover with soy sauce mixture.
Bake tofu for ten minutes, toss gently, then bake for 5 more minutes.
In a large pot, sautee the onion, carrots and zucchini in water for 6-8 minutes, until almost soft.
Add remaining ingredients. Stir to combine well and bring to a low simmer. Allow to cook for at least 20 minutes.
Add tofu and cook for a few more minutes.