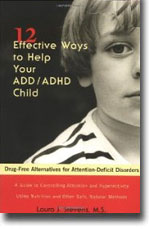 In Twelve Effective Ways to Help Your ADD/ADHD Child: Drug-Free Alternatives for Attention-Deficit Disorders, you'll discover that helping a child with ADD/ADHD is like solving a jigsaw puzzle.You have to identify the various biochemical and nutritional pieces and fit them together into a completed puzzle of a happy, healthy child. Improve diet, track down hidden food allergies, and identify and avoid inhalant allergens and chemical sensitivities.
Included are menu suggestions, shopping tips, and 30 recipes to help parents deal with diet changes, such as avoiding artificial colors, milk, wheat, sugar, and chocolate. 12 Ways to Effectively Help Your ADD/ADHD Child discusses the latest research reports from prestigious medical journals about ADD/ ADHD, deficiencies, and lead poisoning.
This book is superb in every respect. It's comprehensive, yet concise, well organized and reader-friendly. It contains information which parents cannot find elsewhere. Stevens is a mother and highly educated professional who is now carrying out research at Purdue University on the critically important role of essential fatty acids on children with ADHD.
Stevens provides a much needed road map for parents seeking help for their children with ADHD. By providing step-by-step instructions, sound nutritional knowledge, excellent examples, problem-specific narratives, and good, common sense day-to-day practices (i.e.-recipes), she is eliminating the frustration in the search for answers for current and future parents of children with ADHD.
This book provides the type of aid that only could have been given by someone who has had first hand experience in raising children with ADHD. Parents can now learn what to do directly from the book rather than waiting while much of the medical community is playing catch-up to scientific literature.
Author: Laura J. Stevens
Year of Release: 2000