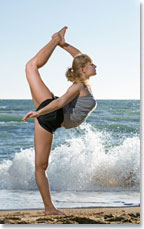 Yoga, developed some 5,000 years ago, is recognized as a comprehensive form of mind-body medicine. Research has shown that the physical postures and breathing exercises of yoga can improve muscle strength, flexibility, blood circulation, oxygen uptake, and hormone function. Additionally, the relaxation induced by meditation alleviates stress by stabilizing the nervous system.
Science has extensively studied the mechanisms by which yoga reduces stress and enhances well-being. Studies have shown that yoga and yogic breathing are unique methods for balancing the autonomic nervous system and influencing psychological and stress-related disorders.
A study at Columbia College of Physicians and Surgeons found yoga to be a beneficial, low-risk, low-cost adjunct to the treatment of stress, anxiety, PTSD, depression, stress-related medical illnesses, substance abuse, and rehabilitation of criminal offenders.
The study concluded that yoga techniques enhance well-being, mood, attention, mental focus, and stress tolerance. The study's authors said "Proper training by a skilled teacher and a 30-minute practice every day will maximize the benefits. Health care providers play a crucial role in encouraging patients to maintain their yoga practices."
Another study revealed that the physiological benefits of yoga help yoga practitioners become more resilient to stressful conditions and reduce a variety of important risk factors for various diseases, especially cardio-respiratory diseases.
Yoga has many different styles, some of which are low impact and others of which are more intensive, making it appropriate for people of all ages.