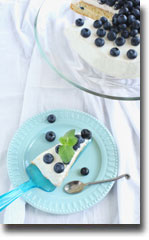 'Tis the season for sweets. Whether you're baking for a swap or building a dessert spread for your upcoming holiday dinner, here is a cake that will wow friends, family and coworkers. This gorgeous over-the-top blueberry cake with gooey frosting is a deconstructed take on a frosted cookie. Happy Holidays!

Serves 8, 350 calories per serving.
Ingredients:

CAKE
1/2 cup blueberries
1/2 cup chopped almonds
1 1/2 cups white flour
3/4 cup sugar
1 Tbsp baking powder
3 Tbsp vegan butter, softened
1/2 tsp vanilla extract
2 Tbsp flax seeds + 2/3 cup warm water
3 Tbsp rolled oats
1/3 cup vanilla coconut milk
1/4 cup unsweetened applesauce
3 Tbsp orange juice
Pinch orange zest
1/2 tsp salt
FROSTING
1/3 cup vegan butter, softened
2/3 cup virgin coconut oil
3 cups powdered sugar
pinch salt
Directions:
CAKE
Preheat oven to 350 degrees.
Add flour, baking powder, salt, sugar, oats and cinnamon to a large mixing bowl and toss for 2 minutes.
In a small dish, combine water and flax seeds. Stir briskly and let sit for about 2 minutes.
Add the water/flax mixture, orange juice, applesauce, vegan butter, salt, vanilla extract, and coconut milk.
Stir your batter by hand until smooth.
Fold in the blueberries and chopped nuts.
Grease and flour the sides of you cake dish.
Pour your batter into your cake dish.
Bake at 350 degrees for about 25-30 minutes – or until edges begin to brown a bit. Remove from oven to cool.
FROSTING
Start your frosting about 20 minutes before you want to frost your cake. The cake must be cooled when you frost it or the frosting will melt.
Add frosting ingredients to mixing bowl and blend with hand beater mixer until fluffy and smooth. If needed, add room temperature vanilla coconut milk to thin out the blend. Place frosting in fridge for just about five minutes before frosting. Any longer and the frosting will get too firm.
Frost cake and add blueberries on top.
Store cake in fridge.
Optional: serve with coconut whipped cream on top.
Click here for the Coconut Whipped Cream recipe