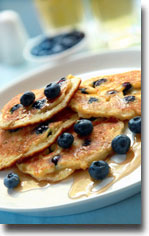 One of my favorite food memories is waking up on Sunday mornings to make blueberry pancakes with the family. We would pull out our stained, well-loved copy of Better Home and Gardens Cookbook and turn to the tabbed recipe. We got out bowls, measuring cups and spoons, ingredients and  would get the batter made and ready for the pan. We would use a few drops of water to know that the pan was hot enough, then wait for when the pancakes were ready to flip, and (best of all) when they were ready to eat.
Number of servings: 6 to 8 pancakes, 105 calories each.
Ingredients:
1 cup flour (whichever kind you prefer)
1 tablespoon sugar (organic cane sugar)
1/2 cup fresh blueberries
2 tablespoons baking powder
1/8 teaspoon salt
1 cup almond milk
2 tablespoons vegetable oil
Directions:
Set out all your ingredients.
Set a stove element with a pan to medium heat.
Combine the 4 dry ingredients (flour, sugar, baking powder, salt) in a bowl.
Add the almond milk and vegetable oil to your mixture.
Mix until smooth.
Add half of the blueberries to mixture and mix, mashing the blueberries as you mix.
Now the pan should be ready for your batter, so spoon one pancakes' worth of the mixture into the pan.
Flip [carefully] when you see bubbles in the middle of the pancake, or if the edges are looking stiffened.
Repeat until the batter is gone.
Serve with remaining blueberries on top and organic maple syrup.
Optional: serve with coconut whipped cream on top.
Click here for the coconut shipper cream recipe