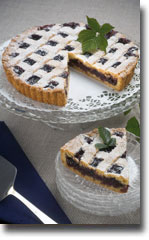 Blueberries are sweet, nutritious and wildly popular. Often labelled a "superfood," they are low in calories and incredibly good for you. They are so tasty and convenient that many people consider them to be their favorite fruit. They protect our bodies from damage by free radicals, unstable molecules that can damage cellular structures and contribute to aging and diseases like cancer.
Makes 8 servings, 320 calories per serving.
Ingredients:
2 teaspoons sugar
1 teaspoon all-purpose flour
5-6 sheets phyllo pastry
3/4 cup organic sugar
3 tablespoons corn starch
1 teaspoon cinnamon
6 cups fresh blueberries
1 1/2 tablespoons fresh lemon juice
1/4 cup organic powdered sugar
Directions:
PIE CRUST
Lightly coat a 9-inch pie pan with nonstick spray.
In a small bowl, combine the 2 teaspoons of sugar and 1 teaspoon of flour and set aside.
Stack phyllo sheets and cut them in half crosswise.
Cover the sheets with a slightly damp cloth until ready to use.
Take one sheet and layer it on the pie pan. Coat it lightly with the vegetable oil spray and sprinkle about 1/2 teaspoon of sugar mixture over it.
Repeat with remaining sheets, layering clockwise at 1" intervals until entire pie pan rim is covered. Trim excess phyllo with kitchen shears.
PIE FILLING
In a large saucepan, combine sugar, cornstarch and cinnamon and mix well.
Add fresh blueberries and sprinkle with lemon juice. Toss lightly to combine.
Cook and gently stir over medium heat until mixture comes to a boil. Cook and stir 2 additional minutes.
Remove from heat and transfer to prepared phyllo crust.
LATTICE RUST
Preheat oven to 350 degrees.
Cut phyllo sheet in half crosswise.
Lightly coat each half sheet with nonstick vegetable-oil spray.
Stack the 2 layers and fold lengthwise then cut into 6 strips.
Twist the strips and arrange them over the pie filling.
Bake 20 to 25 minutes, or until phyllo is golden.
Cool and serve blueberry pie at room temperature.
Dust top of pie with powdered sugar.
Serve with coconut whipped cream