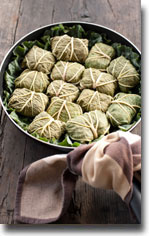 Rolling up the filling in the cabbage leaves will be easier than than you might expect as cabbage leaves just seem to want to wrap themselves. You can make the whole process much easier by using canned lentils and jarred tomato sauce, but the end result may suffer. If you're not up for an afternoon of cabbage stuffing, do what you can to make this recipe easier.
If you are cooking the lentils, so so the day before. You may also mix in the filling ingredients and store them in the refrigerator until you're ready to make the rolls.
Number of servings: 5, 290 calories per serving.
Ingredients:
SAUCE
1 medium onion, chopped
pinch baking soda
4 cloves garlic clove, minced
28-ounce can diced fire-roasted tomatoes*
16-ounce can diced fire-roasted tomatoes*, pureed in blender
1 tablespoon tomato paste
1 teaspoon Braggs Aminos
generous grating black pepper
CABBAGE AND FILLING
1 large cabbage
3 cups cooked lentils (from 1 1/4 cup dry)
1 carrot diced
2 medium onion, minced
2 cloves garlic, minced
2 tablespoons minced fresh parsley
2 teaspoons lemon juice
1 teaspoon paprika (smoked or regular)
1/2 teaspoon freshly ground black pepper (or to taste)
1/2 teaspoon Braggs Aminos (or to taste)
1/4 teaspoon allspice
Directions
Sauce: Heat a large non-stick pan and add the onions and a pinch of baking soda. Cook until the onion softens, about 3-5 minutes. Stir in the garlic and cook for another minute. Add all remaining sauce ingredients except the raisins, reduce heat to low, and cover. Cook for at least 30 minutes as you prepare the cabbage leaves and filling.
Fill a large deep pan with enough water to cover a cabbage and bring it to a boil. Remove all torn or ragged outer leaves from the cabbage. Use a paring knife to cut at an angle around the core and remove as much of it as you can. Put the cabbage core-end up into the boiling water and cook until the leaves soften and begin to come free of the cabbage; you may use a fork or tongs to loosen leaves if they become stuck, but be careful not to tear them. Remove each leaf and repeat until you have 10-12 whole cabbage leaves. (I've also read that you can freeze the cabbage overnight and let it thaw the next day; the leaves will be softened the same as after boiling. I haven't tried this, though.)
Place the leaves and the remaining cabbage head in a strainer and rinse under cold water. Finely shred the cabbage remaining on the head and add it to the sauce along with the raisins. Keep the sauce covered and continue to cook on very low.
In a medium bowl, mix the lentils and all remaining ingredients, adding salt and pepper to taste. Dry each cabbage leaf gently and trim the thick rib near the stem end of each leaf.
Put a cabbage leaf on your work surface with the concave side up, like a cup, and the stem end toward you. Place about 1/3 cup of the lentil mixture near the stem end (a little more for large leaves, less for smaller ones) and mold it into an oblong shape. Fold the stem up over the filling and then fold each of the sides toward the middle. Roll the filling up the rest of the leaf. You should have a nice, tight package. Place it on a plate and repeat with remaining leaves. (If you have some filling left over, it makes a delicious salad.)
Spread about half of the tomato sauce in the bottom of a large Dutch oven or other heavy pot. Place each cabbage roll, seam-side down, on top of the sauce in a single layer. (It's okay if it's a snug fit.) Spread the remaining sauce over the rolls. Cover and cook on your lowest heat setting until the cabbage is tender, about 45-60 minutes, being careful not to burn the bottom.
To serve, place two cabbage rolls on a plate and cover with sauce.