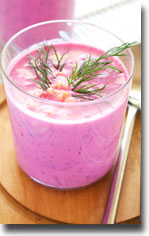 Number of servings: 6, 250 calories per serving.
Ingredients:
6 beets (fresh, 2-2 1/4 inches in diameter, unpeeled, but scrubbed and trimmed)
4 cups sweet onions
4 cups vegetable broth (divided)
2 stalks celery (& leaves)
2 ginger (taplespoons of fresh peeled grated)
12 tsp Chinese five-spice powder
Directions:
Cut each beet into 6 wedges.
Slice onion thinly.
Chop celery and leaves.
Place beets in 8 cup measuring cup
Add 3 cups of broth.
Cover and microwave on high for 15 minutes.
Heat cup of water in pan.
Saute onion and celery until translucent, about 2 minutes.
Add beets and 1 cup of broth, cover and simmer 2 minutes.
Mix in ginger and spice powder.
Puree in blender or with immersion blender.