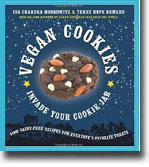 Vegan cookies are going to invade your cookie jar, one delicious bite at a time. Join award-winning bakers Isa Chandra Moskowitz and Terry Hope Romero (authors of the hit cookbook Vegan Cupcakes Take Over the World) as they continue their world-domination mission—with dairy- and egg-free batches of everyone's favorite treats.
Vegan Cookies Invade Your Cookie Jar: 100 Dairy-Free Recipes for Everyone's Favorite Treats includes irresistible recipes for cookies, bars, biscotti, brownies, and more. Discover festive desserts that are sure to impress family and friends at any occasion, from birthdays to bake sales. Or simply tempt yourself with:
Magical Coconut Cookie Bars
Chocolate Chip Cream Cheese Brownies
Peanut Butter Crisscrosses
NYC Black & Whites
Key Lime Shortbread Rounds
Call Me Blondies
Macadamia Lace Cookies
Throughout the book, Isa and Terry share their best mixing, baking, and decorating techniques and tackle age-old cookie conundrums. Learn the secrets of vegan-izing name-brand favorites (Nutter Betters, anyone?), whipping up gluten-free batches, and even making cookies you can eat for breakfast. When vegan cookies invade your cookie jar, it's yummy to give in!
From the authors of the excellent—and cheeky—Vegan Cupcakes Take Over the World comes this winning collection of vegan cookie recipes that should appeal to vegans and nonvegans alike (if those nonvegans are willing to seek out a few specialty ingredients—the authors helpfully provide suggestions and resources—and make the unfortunate substitution of margarine for butter).
Without a hint of preachiness, and with plenty of sass, the book delivers veganized versions of traditional cookies such as New York City's black and white cookies, Pepperidge Farm Milanos (called minonos) and lemon bars, about which the authors explain, "For too long we vegans have had our faces pressed against the glass of the dessert case and longing for the sweet tartness of those shimmering lemon bars. Well, you can stop scaring the staff of that bakery.?
There are also sophisticated confections like toasted almond cookies with fleur de sel and macadamia lace cookies. While there are cookies that sound suspiciously healthy, such as fruity oaty bars and whole wheat chocolate chip cookies, decadent recipes like caramel pecan bars and starry fudge shortbread, filled with non-dairy chocolate ganache, show that you can be vegan and still indulge in delicious treats.
Authors: Isa Chandra Moskowitz, Terry Hope Romero
Year of Release: 2009