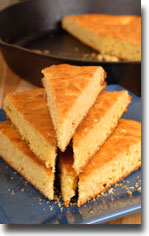 Cornbread is a cornerstone of the cuisine of the Southern United States. Cornmeal is produced by grinding dry raw corn grains. Cornbread is a great recipe to track through the past few centuries because it was so prolific a crop in America that it was consumed across class, race, and regional lines. We all have the Native Americans to thank for corn bread. Its humble beginnings can be traced back to the Indians that the European settlers came.

Number of servings: 9, 190 calories per serving.
Ingredients:
2 tablespoons ground flax seeds
6 tablespoons water
1 cup all-purpose flour
1 cup cornmeal
1/4 cup sugar
4 teaspoons baking powder
3/4 teaspoon table salt
1 cup almond milk
1/4 cup canola oil
Directions:
Preheat oven to 425°F
Spray 8-inch-square baking dish with nonstick cooking spray.
Bring the water to a boil in a small saucepan.
Add the ground flax seed, reduce the heat to medium-low, and simmer the ground flax seed in the water for 3 minutes or until thickened, stirring occasionally.
Set aside.
In a medium bowl, whisk together the flour, cornmeal, sugar, baking powder, and salt until well-combined.
Add the ground flax seed mixture, almond milk, and canola oil to the flour mixture.
Beat just until smooth (do not overbeat.)
Turn into prepared baking pan or cast iron skillet. Bake for 20 to 25 minutes, or until a toothpick inserted in the middle comes out clean.
Cool on wire rack 10 minutes; invert cornbread onto wire rack, then turn right side up and continue to cool until warm, about 10 minutes longer.