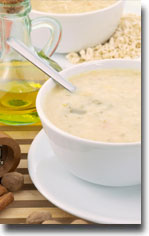 Soups made with cream and mushrooms are much older than the canned variety. Ancient Italian (Salsa colla) and French (Béchamel) cream sauces, and soups based on them have been made for many hundreds of years. Cream of mushroom soup is a simple type of soup where a basic roux is thinned with cream or milk and then mushrooms and/or mushroom broth are added.
Makes 4 servings,
250 calories each
Ingredients:
3/4 pound fresh mushrooms, sliced
1/2 small onion, diced
2 cloves garlic, minced
3 cups vegetable broth
2 tbsp flour
6 ounces silken tofu
Braggs Aminos and pepper to taste
Directions:
In a large soup or stock pot, sautee the mushrooms, onion and garlic in vegan margarine for 3 – 5 minutes, until onions are soft.
Reduce heat to medium low and add the vegetable broth. Cover and allow to simmer for at least 45 minutes.
Add the flour, silken tofu, stirring well to combine. Allow to simmer another 20 – 30 minutes, or until soup has thickened. Season generously with Braggs and pepper before serving.