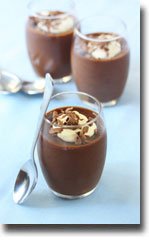 A dessert mousse can range from light and fluffy to creamy and thick, depending on preparation techniques. A mousse may be sweet or savory. Dessert mousses are typically made with whipped egg whites or whipped cream, flavored with chocolate, coffee, caramel, puréed fruits or various herbs and spices, such as mint. This vegan chocolate mousse has a dark rich flavor that will satisfy any palate.

Makes 4 servings, 197 calories per serving.
Ingredients:
1 pound soft (silken) tofu
1/2 cup cocoa powder
1/4 cup carob powder
6 tbsp sugar
1/2 cup almond or coconut milk
Directions:
Place all the ingredients in a blender or food processor and puree until creamy.
Pour the mousse into parfait glasses or individual dessert bowls and chill.
Serve with coconut whipped cream and pieces of dark chocolate.
Click here for the Coconut Whipped Cream recipe