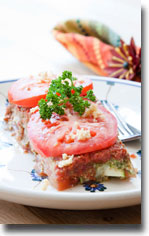 Your guests will be astonished that this cheesy tasting lasagna doesn't have any cheese in it. Vegetarians, rejoice, you're going to fall in love with this deliciously healthy and fresh vegan lasagna. Stuffed with a hearty bunch of spinach and basil.

Serves 8, 360 calories per serving.
FILLING
2 tsp. olive oil
2 medium onions, chopped (2 cups)
4 cloves garlic, minced (1 Tbs.)
10-oz. bag fresh baby spinach
2 12-oz. pkgs. firm tofu, drained
1 8-oz. pkg. vegan cream cheese
1/4 cup chopped fresh basil
1/4 cup nutritional yeast
2 Large Tomatoes Sliced
parsley
LASAGNA
5 cups Tomato Sauce
12 uncooked whole-wheat lasagna noodles
12 oz. vegan sausage diced
1 cup shredded mozzarella flavor rice or soy cheese
DIRECTIONS
To make Filling: Preheat oven to 375°F. Heat oil in skillet over medium-high heat. Sauté onions and garlic in oil 4 to 5 minutes until golden brown. Add spinach, and cook 2 to 3 minutes until wilted. Transfer spinach mixture to bowl of food processor. Add tofu, cream cheese, basil, and nutritional yeast, and purée until mixture is thick and smooth. Season with salt and pepper, if desired.
Spread one-quarter of Tomato Sauce on bottom of 13 x 9 inch baking dish. Cover with one-third of noodles (4 or 5 noodles), then half of Filling, and ladle on another one-quarter of Tomato Sauce. Repeat layer of noodles and remaining Filling. Spread sausage evenly over top, and top with one-quarter of sauce. Finish with final layer of noodles and remaining sauce. Sprinkle with shredded cheese.
Cover lasagna with foil, and bake 30 minutes, or until bubbling hot. Uncover, and bake 15 to 20 minutes more, or until noodles are tender and topping is melted. Remove from oven, and let stand 10 minutes before serving. Serve with tomato slices and parsley on top.