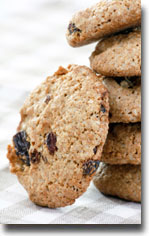 Outside of eating a bowl full of oatmeal (or porridge in Scotland and Ireland), or adding it to your meatloaf, using oats in cookies is by far the most common use of oats in the United States. Recent health studies suggest that a diet consisting of oats can help lower cholesterol. Not only do they have large amounts of soluble fiber, oatmeal also contains Vitamin E, zinc, selenium, copper, iron, manganese, magnesium and protein.
Number of servings: 16 cookies, 100 calories each.
Ingredients:
1 & 3/4 cups walnuts, toasted
2 cups regular oats, divided
3/4 cup white Kamut flour (other flours probably work!)
1/2 cup Sucanat (or brown sugar)
1 tsp baking soda
1/2 tsp cinnamon
1/2 cup pure maple syrup
2 tbsp almond milk
3.5 tbsp coconut oil
2 tsp pure vanilla extract
2/3 cup raisins
Directions:
Preheat oven to 350F and grease a baking sheet.
Place 1.75 cups of walnuts on the baking sheet and toast walnuts in oven for about 10-12 minutes.
Allow walnuts to cool, then put into food processor and process until finely ground.
In a medium bowl, mix together the flour, baking soda, 1 cup oats, cinnamon, and Sucanat (or brown sugar).
Add the dry ingredients to the food processor and process for about 20-30 seconds until mixed.
In a small bowl add the coconut oil and microwave for 20 seconds to soften.
In the same bowl, stir in the maple syrup, almond milk, and vanilla, and pour into food processor.
Process until the mixture is thoroughly combined. Remove bowl from processor and dump contents into a large bowl.
Mix in the remaining 1 cup of oats by stirring or with hands.
Fold in the 2/3 cup of raisins.
Take about 2 tbsp of dough, make a ball, and then flatten with fingers. Place on cookie sheet. Repeat until all dough is used.
Bake for 10 minutes at 350F and no longer.
Remove from oven and let sit on baking sheet for 2 minutes before placing onto a cooling rack for 10-15 minutes.