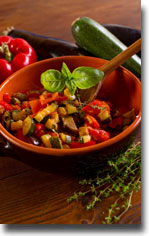 The word ratatouille comes from Occitan ratatolha and the recipe that comes from Occitan cuisine and Languedoc is a former province of France. Ratatouille originated in the area around present day Provence and Nice; the Catalan samfaina and the Majorcan tombet are versions of the same dish. The southern Italian ciambotta is a related spring vegetable dish.
Serves three, 65 calories per portion.
1 medium chopped onion
1 small aubergine, chopped into chunks
A clove or two of garlic
1 pepper, chopped into chunks
1 medium zucchini, chopped into chunks
1 x 400g can chopped tomatoes
Thyme and a couple of bay leaves
Pepper and Braggs Amino to taste
Method: Gently fry the onion and aubergine, adding a splash of water if it looks like it's drying out. Add the garlic, pepper and zucchini and cook on a low heat for 10-15 minutes. Add the tomatoes and herbs and heat gently for 10 or more minutes before serving.
Alternatively, you can bake the mixture in a casserole dish at 350 for 30 minutes.
It's just as good cold and can be delicious on a small slice of wholemeal toast (50 calories.)