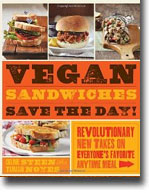 Celine Steen and Tamasin Noyes have reinvented the sandwich, taking it to all new heights with spectacular creations that will forever change your perception of lunch (and breakfast and dinner, too).Take two super-creative, experienced, and highly regarded vegan cookbook authors, allow them to apply their imagination and exceptional palates to a theme where there are few boundaries other than slices of bread, and you have this incredible book.
What's the best thing since sliced bread? The sandwich of course! Layered with flavor, simple and portable, and full of endless variety, sandwiches have been stealing the show for as long as they've existed.
But it's time for the traditional, calorie-laden, meat-centric sandwich to move over, because there's a new sheriff in town—the vegan sandwich! Filled with healthy, natural, plant-based ingredients, vegan sandwiches are your one-stop shop to total breakfast, lunch, or dinner satisfaction.
Inside Vegan Sandwiches Save the Day!Vegan Sandwiches Save the Day!: Revolutionary New Takes on Everyone's Favorite Anytime Meal, you'll find 101 amazing combinations to suit any time, any craving, and any occasion, including:
Berry-Stuffed French Toast Pockets
Apricot Breakfast Panini
Puff Pastry Pot Pie Sandwiches
Mango Basil Wraps
Portobello Po' Boys
Mediterranean Tempeh Sandwiches
Mango Butter and Ginger Whoopie Pies
Whether you're vegan or just looking to incorporate more meatless meals into your diet without spending hours in the kitchen, you'll find the tasty solution you're looking for—no fork required.
Authors: Tamasin Noyes, Celine Steen
Year of Release: 2012