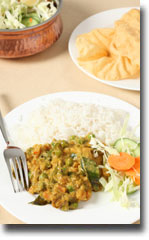 This recipe is absolutely amazing. I have been wanting to create a vegan korma with a home made curry paste for a while now and I am so glad that I did. This tastes exactly like the korma I loved from our local Indian restaurant when I was little. The cashew base makes such a delicious, thick and creamy curry sauce. To save time, you can always purchase a store-bought vegan korma paste.
Serves four, 290 calories per portion.
Ingredients
Curry Paste:
   1 teaspoon ground cumin
   1 teaspoon dried (ground) coriander
   2 teaspoons garam masala
   1 teaspoon (ground) turmeric
   2 tablespoons tomato paste
   3 garlic cloves
   20g fresh ginger
   1/4 cup shredded coconut
   2 tablespoons olive oil
Curry:
   1 onion, diced
   1 cup frozen peas
   1 carrot, diced
   200g white potatoes, diced
   2 cups coconut milk
   1 cup raw cashews
   big pinch salt
   1 1/2 cups rice of choice (optional)
Directions
Prepare the rice according to packet instructions.
Place the cashews and soy milk in a bowl. Allow to sit and soak. Set aside.
In the meantime, steam the potatoes and carrots until just tender. Set aside.
Add all "curry paste" ingredients to a food processor and blend until combined into a paste. Set aside.
In a pan on high heat, add the oil and onion and sauté until transparent.
Add in the curry paste and sauté for a couple of minutes until fragrant and heated through.
Add in the peas, carrots and potatoes and sauté for a couple of minutes until coated in the paste and the peas have defrosted.
In a food processor, pour in the coconut milk and cashew mixture and blend until smooth without lumps.
Pour the processed cashew mixture into the fry pan and stir until combined.
Allow to simmer until heated through and the mixture has thickened.
Taste and season with a big pinch of salt.
Serve immediately with rice.