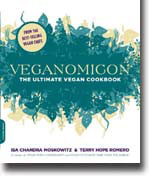 Who knew vegetables could taste so good? Moskowitz and Romero's newest delicious collection makes it easier than ever to live vegan. You'll find more than 250 recipes–plus menus and stunning color photos–for dishes that will please every palate.
All the recipes in Veganomicon have been thoroughly kitchen-tested to ensure user-friendliness and amazing results. And by popular demand, the Veganomicon includes meals for all occasions and soy-free, gluten-free, and low-fat options, plus quick recipes that make dinner a snap.
Recipes include:
Autumn Latkes
Samosa Stuffed Baked Potatoes
Grilled Yuca Tortillas
Baby Bok Choy with Crispy Shallots
Chile-Cornmeal Crusted Tofu Po' Boy
Roasted Eggplant and Spinach Muffuletta
Jicama-Watercress-Avocado Salad with Spicy Citrus Vinaigrette
Acorn Squash, Pear and Adzuki Soup
Tomato Rice Soup with Roasted Garlic and Navy Beans
Asparagus and Lemongrass Risotto
Almost All-American Seitan Pot Pie
Hot Sauce-Glazed Tempeh
Black Eyed Pea Collard Rolls
Chocolate Hazelnut Biscotti
Pumpkin Crumb Cake with Pecan Streusel
While most vegan cookbooks are anemic, underfed volumes-some no-brainer pasta recipes, a few things to do with tofu, maybe some oddball desserts-this slam-bang effort from vegan chefs Moskowitz and Romero (Vegan with a Vengeance) is thorough and robust, making admirable use of every fruit and vegetable under the sun, without once asking readers to make do with fake meat products and egg replacements.
Instead, the eccentric authors offer dozens of novel, delicious ways to get excited about eating meat-, dairy- and egg-free. Take Southwestern Corn Pudding, a winning casserole rich with coconut milk and an unexpected dash of maple syrup-a likely MVP at your next Thanksgiving (whether it's centered around turkey or tofu).
Almost as addictive are Rustic White Beans and Mushrooms, which get their bite from fresh herbs, and Lentils and Rice with Caramelized Onions and Spiced Pita Crisps, a transcendent Middle Eastern comfort food. Vegan breakfasts get overdue attention: sitting in front of a hot stack of velvety Blueberry Corn Pancakes and hearty Blue Flannel Hash, who's going to miss the bacon? Best of all is the wide selection of terrific desserts: everything from Chewy Oatmeal Raisin Cookies to decadent Caramel-Apple-Spice Cupcakes boldly fill the space where most eggless, milkless and butterless cookbooks fear to tread.
Authors: Isa Chandra Moskowitz, Terry Hope Romero
Year of Release: 2007