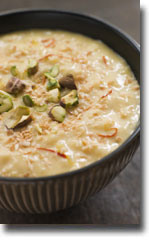 Enjoy this healthy vegan white bean stew that you can make in a slow cooker. Slow cooking is such a great way to save time (and money) and still make healthy meals for the family. I'm a big fan of making a big pot of soup on the weekend that will serve as my lunches for the coming week. I like to garnish the stew with something different each time. My favorite garnish is pistachio nuts.

Serves ten, 220 calories per portion.

Ingredients
2 pounds white beans (see note below)
2 large carrots, peeled and diced
3 large celery stalks, diced
1 onion, diced
3 cloves garlic, minced or chopped
1 bay leaf
1 tsp. each: dried rosemary, thyme, oregano
10-12 cups water
Braggs Aminos to taste
Ground black pepper, to taste
1 large can (28 ounces) diced tomatoes (I like Muir Glen Organic Fire Roasted)
5-6 cups (or more) roughly chopped leafy greens (spinach, chard, kale
Instructions
Sort through and rinse beans several times in cool water. Add to the slow cooker along with the diced carrots, celery, onions, garlic, bay leaf and dried herbs. Add the water. (Use less for a thicker stew, more for more of a soup.) Cover and cook on HIGH for 3-4 hours, or LOW for 8-10 hours. Remove lid from slow cooker and add the Braggs Aminos and pepper, and diced tomatoes. Let cook for another 1-1½ hours, or until beans are very soft. (If they are already soft after the initial cooking time, different kinds of beans may vary in cooking time, then add the tomatoes and greens and serve immediately.) Before serving, stir in the chopped greens.
Makes a lot–enough for at least 10-12 servings. Freeze half for later or invite friends over.
Notes:
Cooking times may vary. Type of beans used, as well as the age of the beans, may require longer cooking times. I typically use Great Northern Beans and cook on high for 3-4 hours. Navy beans will take a little less time. Cannellini beans (white kidney beans) will take even longer because they are much larger.