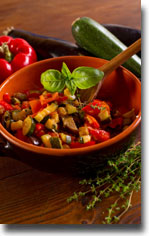 This zucchini or courgette salad will give a little bit of a kick with the added olive oil but is so simple to make and extra beautiful with the lemon juice. This bright and flavorful raw zucchini salad is loaded with fresh tomatoes and tender zucchini noodles. It looks fancy, but it's fast, simple, and doesn't require the use of a stove or oven so it's perfect for those hot summer days.

Servings 6: calories 230 per serving.
Ingredients
1.5 c plum or cherry tomatoes, diced
Bragg Liquid Aminos to taste
2 medium zucchini (about 7″ in length)
½ c basil leaves minced
1 Tbsp brown rice vinegar
2 tsp fresh lemon juice
¼ tsp black pepper
Instructions
In a small bowl, toss diced tomatoes with salt. Set aside.
Dice zucchini into desired size
In a wide, shallow serving dish, toss zucchini with tomatoes and remaining ingredients.
Cover and chill at least 1 hour to allow zucchini to soften and flavors to meld.